01 March, 2021

Fuji Ace EC 201
Robotic Automation led to Increasing Production Multifold
Robotics and automation are dramatically reshaping the global economy. We at Fuji are helping clients use the newest technologies to enhance the industrial operations by supplying an integrated Robot system which meets their demands of high volume, velocity, variety, and visibility, enhancing the quality in optimum cost.
Fuji Ace EC 201:
The demand for automation technology is growing as companies across industries look for ways to streamline and speed production and manufacturing. Fuji Ace EC 201 is one of such integrated system which was recently installed in one of the India's biggest and oldest beverage company. A total of 3 Robotic Palletizing systems were provided to handle 7 production lines.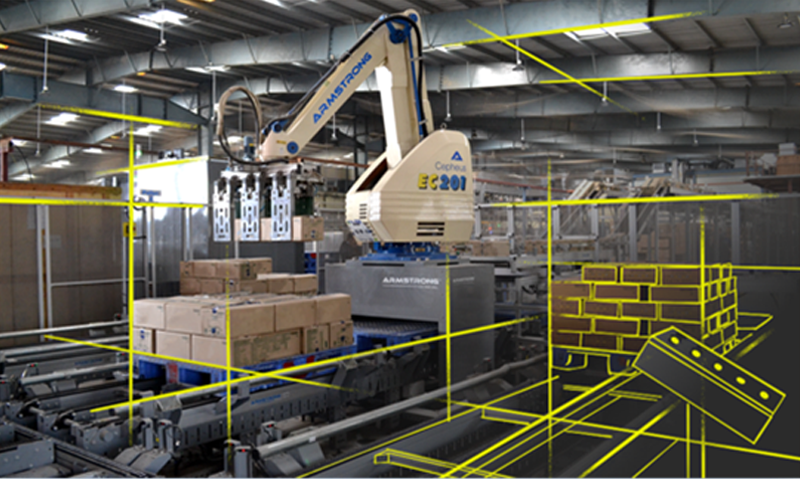 Above: FujiAce EC 201 in action at a testing phase at our channel partner factory. It can achieve a maximum of 200 pallets per hour and has been tested for countless hours to ensure the quality.
Variety and Visibility:
Each system was uniquely crafted to meet the high throughput of different varieties of SKU at the same time. With an IT collaborated annunciation system the real time production data enhances the visibility of the production. As compared to traditional manual palletizing, the Robotic Palletizing system- Ace EC 201 increases the visibility to 99.99%. The production handling capacity of the plant became twice thereby improving inventory handling.

Lives made easy:
FujiAce EC 201 made the lives of the customer easy by providing a means to automatically adjust the speed of the whole production line to suit whichever activity is the critical constraint for a given batch. It can automatically make tiny adjustments in line speed to improve the overall balance of individual lines and maximize the effectiveness of the whole manufacturing system. By enhancing the plant space utilization by 1.5 times, the system is well designed considering easy movement of material handling vehicles.
Return on Investment:
By completely eliminating the Labor cost at the packaging area at individual lines, the ROI of the system is just 2.5 years. A fully automated system ensures no human contact during the palletizing operation. Fuji emphasized a lot on the safety of the Robotic palletizer by perfectly using automation at all the possible pinch points in the system. The smooth handling of the product and efficient stacking of the boxes on pallet results in less product damages.While the system works in high-speed, high-volume production applications, it can make adjustments on the fly, switching seamlessly between product types without the need to stop the line to change programming.